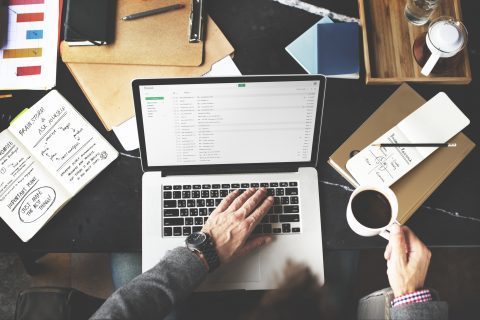 We've all opened our inbox and seen countless emails that flooded in since yesterday. Deleting many, skimming some, and maybe catching interest in a few. So what makes an email most effective in grabbing your attention versus being sent to spam or trash? Maybe the email wont download on the readers phone, or the subject line wasn't clear enough for your target audience to be interested. An effective email marketing campaign needs to be thoughtfully put together if your main goal is to grab their attention in a busy inbox. Here are a few of our tips for improvement.
Responsiveness
You obviously want your customers to be able to see the content you've sent them and this can be done by building a responsive email. Making it readable across all devices because the email will automatically resize depending on the user's device.This is especially important when reaching mobile users. If your email is not mobile compatible then you could be missing out readers. On average, mobile users check their email 3 times more than non mobile users, and at least half of all emails opened are done so on a mobile device.
Subject Line and Message
Think about your audience and what kind of content they are looking for. If you are sending something they aren't seeking then your email will probably get deleted. So try to avoid getting views with clickbait subject lines that won't drive conversions to your website and focus on being clear and concise with what your email is about in the subject as well as maintaining that message throughout the email.
Content and Design
A handful of elements can be used to make up an attractive email that peeks the interest of your reader to share your call the action (CTA). Start by keeping your layout simple and clean, staying with the same fonts and colors as your website to keep with your brand, and take the time to include your logo. Throw in some fun graphics and make the email personalized to the reader. Rather than "Dear Sir/Madam", try "Hey James". Lastly, include visually bold links for readers to click on linking to your website, which is the main goal of the email after all!
Measure your Results
The best way to know if your email marketing plan is a success is to understand your results. The click to open rate (CTOR), open to send ratio (OR), as well as your unsubscribe rate are important to keep in mind, as well as what time of day people open messages and how many were undeliverable. All these factors show the performance of your email. However, you can normally measure success if your CTOR is above your OR. Keep in mind your industry's averages when looking at your numbers. A 25% open rate may seem low, but it could be an achievement in your market. Using an email marketing platform like MailChimp, Drip, or Constant Contact can normally provide these comparisons, in addition to tracking within their reporting for you to better understand your results. Remember, Google Analytics is also a great tool for understanding conversions to your website with custom campaign tracking.
An strong email marketing campaign is attainable for any business and these tips can help get you where you want to be. Maybe you don't want to deal with the hassle of running your campaign. Let Turn The Page Oregon handle the work. Call us today at 971 200 1670