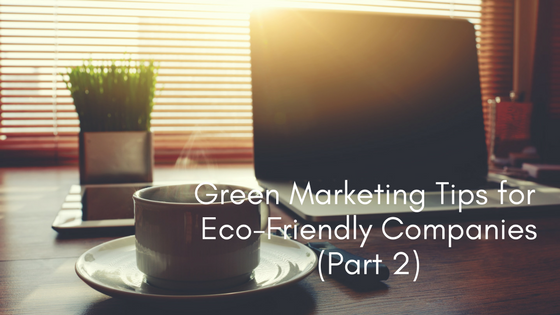 Environmental awareness has become an essential part of Pacific Northwest culture. We have some of the most breathtaking landscapes in the nation, and a vested interest in taking care of the environment. Any business owner in this region, and anywhere across the U.S., needs to be able to incorporate an eco-friendly message in their workplace culture.
Take these steps to support Mother Nature in your company:
Incorporate Green in Your Brand/Culture
If you are a business dedicated to helping the environment, your mission and vision statements should proudly declare it. Quite simply: show, don't tell – all corners of your organization should be fully committed to protecting the environment. Green marketing becomes second nature when an eco-friendly message is at the heart of everything you do.
Community Support
Another excellent "show, don't tell" branding tool. By getting your company involved in the community and showing the outside world how eco-friendly your brand is, you'll make leaps and bounds in your efforts to go green. Some ideas for community involvement include:
Volunteering for local nature charities, participating in eco-friendly programs, or joining in community initiatives

Create a mandatory volunteer opportunity every quarter for employees to get outside and give back

Provide incentives for employees to get involved in their nature community

Donate support to an organization that is in line with your company values
Most importantly, don't forget to document – use these opportunities to promote your company brand through social media, blog posts, Facebook live video, and Instagram stories. Help your community involvement work for you!  
Be Transparent
Be honest and authentic about your brand and what you represent. When your company represents itself as eco-friendly, your audience wants to see proof. Taking steps to promote your trustworthiness by publishing your green goals and objectives and providing updates when you reach those goals will show your audience that you're dedicated. Customers want a visibly-committed CEO with a clear vision who can lead their company to those goals. When CEOs and employees show that they have a vested interest in the company, they win their stakeholders' trust.
Be Smart about Print
This seems like a no-brainer, but companies still heavily rely on print marketing to get the word out. Promoting your company with excessive amounts of paper can take away some of that authenticity you've been looking for. If you have a situation in which digital marketing just won't cut it – which is rare, trust us – recycled paper or compostable packaging materials will do in a pinch while continuing your green marketing message.
Invest in Online Marketing
We've saved the best for last: invest in online marketing. 70% of searchers are using their mobile devices to get the information they're looking for, and Google has started their mobile-first index. A strong digital presence will put your company at the head of the pack without sending out any postcards. Whether you want your company to rank higher in the search engine results, or you want to focus on lead conversion with a paid search campaign, digital marketing is a step in the right direction.
Turn The Page Oregon is proud to be a Google Premier Partner and be an expert in
Search Engine Optimization

Pay-Per-Click (PPC) Advertising

Facebook Paid Advertising

Social Media Management

Website Design
Ready to get ahead of the competition? Contact us

Turn The Page Oregon

or call (971) 200-1670 today!